Best Books For 2 Year Olds – Wondrous & Sensational
This week my son is turning 3. What a year it has been! And now that I still have it fresh, I wanted to put together a list of what we consider are the best books for 2 year olds. Because I will possibly end up forgetting
I believe that finding books that they enjoy is critical to help build their future passion for reading. At least I hope he'll enjoy reading. But, for now, he really has fun selecting his own books, either for me to read or for him to flick through the pages. And every now and then, he even shouts a line when walking down the street.
Our selection of top 20 books for 2 year olds
So, which are the ones that he has enjoyed the most during this past year? These are the picture books we've read more than 10 times (at least) this year. So, these are his top 20, his favorites, and the ones that will make me remember him as a 2-year-old while I read to him at dinner time or right before bed.
1. Shhh! We have a plan – Chris Haughton
My children love all of Chris Haughton's books but find this one particularly hilarious. It is excellent for reenacting. It has a very simple, repetitive text, which allows them to memorize it quickly, and we act it every single time. His style of illustration is modern and monochromatic, but they say so much. I think it is brilliant. "Look! A bird!! "Hello, birdie!" "Shhhhh! We have a plan." Tiptoe slowly. Tiptoe slowly. Now Stop! This may become a favorite. We've had to buy a second board book because my son loved it so much he tore it apart.
2. Oh No George – Chris Haughton
George is an excellent dog with a big heart. But sometimes, his impulses take over, and he can't help himself. He thought he'd be good, he said he'd be good… but he wasn't. It deals with his emotions and how he learns from his mistakes. Like "Shhh! We have a plan", the illustrations are modern and monochromatic and communicate what is happening. It is beautiful and sweet and great to chat about making sad choices and how to learn from our mistakes.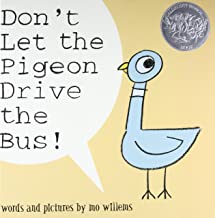 3. Don't Let the Pigeon Drive the Bus – Mo Willems
This book is simply brilliant and my children find it hilarious. A pigeon has a dream: he wants to drive a bus. The bus driver leaves and asks us to look after the bus and not to let the pigeon drive it. So once he leaves the pigeon tries many different ways to convince us of driving it – to which we say No – leading to a big tantrum and – SPOILER ALERT – him not getting what he wants (because of course it is a ridiculous idea for a pigeon to drive a bus). It is a great example of a toddler tantrum, and a way to make them understand that sometimes they can't get what they want. We laugh each time.
4. Oi Frog! – Kes Gray & Jim Field
Hilarious laugh-out-loud book. We discover a ridiculous seating system for animals that says they can only sit on things they rhyme with. Frog finds sitting on a log uncomfortable and would like to sit someplace else, but * SPOILER * cat says it's not about being comfortable but about doing "the right thing." I believe it is an exciting read at another level. It opens the door to questioning why we do certain things, is "the right thing to do" really the right or the only thing we can do? This read-aloud video is fantastic; I wish I was able to read it like that.
5. Ben & Holly's Little Kingdom – Birthday Magic
At Daisy and Poppy's birthday party, the Wise Old Elf, little by little, takes the fairies' wands away and bans them from doing magic – as a consequence of their magic always leading to trouble. Fairy parties don't always go to plan… but they are a lot of fun! My son loves the ending… who wouldn't love a jelly flood?
6. The Very Hungry Caterpillar – Eric Carle
A classic story foIt is a classic story for little ones about a tiny caterpillar that is very hungry and eats for a whole week… and I do not want to spoil the ending. It teaches children about the days of the week, counting small numbers, fruits, and change. Written and illustrated by the legend Eric Carle.
7. A Bit Lost – Chris Haughton
Poor little owl has fallen from his nest and needs help to find his mama. But all the hints he gives the squirrel aren't quite that useful… luckily, somebody knows his mother and that she has been looking for him all over. It is a short, sweet board book with beautiful modern illustrations that we all enjoy and are quick to read (we sometimes need some of those).
8. The Highway Rat – Julia Donaldson & Axel Scheffler
This is the tale of the Highway rat, a bandit that rides the highway stealing the traveler's food – especially craving cakes and biscuits – and leaving everyone hungry and afraid. Eventually, the rat is tricked by a clever duck, and he gets his comeuppance by ending working in a cake shop – his greatest temptation of all. It is an engaging story and has also been animated and can be found usually in Amazon – although we have the DVD, and my 2-year-old son loves it and knows it by heart.
10. Fox's Socks – Julia Donaldson & Axel Scheffler
Oh no! Fox has lost his socks! Where could they be? He goes around the house lifting flaps until he finds his pair and is ready to go. When he turned two, my son loved this book and really enjoyed interpreting it and answering our questions… "could the socks be in the cupboard?" "nooooooo". He laughed every time, and for me, this memory is priceless.
11. The Color Monster – Anna Llenas
The Color Monster is feeling very confused today. All his emotions are tangled up, and he can't quite make out what he is feeling – joy, sadness, anger, fear, or calm. A little girl helps him understand what each emotion is and sort them out. It is an excellent book about self-awareness, about understanding emotions and color-related concepts. It has been a great way to talk about how we feel in situations in our everyday life.
12. The Snail and the Whale – Julia Donaldson & Axel Scheffler
This is a tale about friendship, dreaming big even if you are small, and a story about helping one another. It is a fantastic book with beautiful illustrations. Friends come in all shapes and sizes; ask the Snail and the Whale. It is also an excellent movie for toddlers – just 25 minutes long and brilliantly animated (we have it on DVD, but it is also sometimes on Amazon Prime).
13. There is No Dragon in This Story – Lou Carter & Deborah Allwright
Why are dragons always supposed to be the bad guys in the stories? Dragon is tired and goes in a huff, trying to find a story where he can be a hero for a change. But all fairytale characters reply in the same way, "There is no Dragon in this story!". So Dragon is quite sad until things go wrong in the fairytale world, and Dragon can be a hero if he believes in himself. It has beautiful and fun illustrations with some of the most famous fairytale characters that your kids will know.
14. Space (Look Inside) – Rob Lloyd Jones
One of his latest fascinations is this lift the flap book about space. The astronauts, the planets, the rockets, and the spacecraft all have him mesmerized. It might be for older children, but he really enjoys looking at it by himself and pointing out what he knows the word for. He especially found it funny to discover during his potty training days that astronauts need to be strapped with a seat belt to go to the toilet. Who knew? (Not me).
15. Mix it up – Hervé Tullet
This colorful interactive book for children teaches them about color and what happens when you mix them. It is very original, simple, artsy, mess-free, and creative. Later, you can try to replicate what you see in the pages with actual paint and have fun with it. For example, get some blue and yellow colors and see what happens. If you need magic tips on "painting for toddlers," you can check out this post 
16. The Story Orchestra: Swan Lake – Katy Flint & Jessica Courtney Tickle
A beautiful book with lovely illustrations. It will make children familiar with the music of one of the most famous ballets of all time Swan Lake from Tchaikovsky. This is a classical story, but this one ends on a happy, child-friendly note. Ideal to look at before going to the actual show, so the child knows what to expect. This book was a gift for my daughter, who loves ballet, and my son asked me to read and play it repeatedly.
17. Go, Dog, Go! – P. D. Eastman
I loved this book as a child. It is elementary but super engaging. It is a classic book, and that is great as well for early readers. Through its great party of dogs of all shapes and sizes, it is fantastic to learn opposites, the most basic colors, counting in low numbers, and about stopping and going. We really enjoy reading it at home, and it has been instrumental to learn these concepts.
18. Little Golden Books Collection – Superhero books
He hasn't seen any of these superheroes on screen yet, but he has seen toys and action figures. So we thought he might want to know who they are, and these are great short books to introduce them. He asks us to read The Amazing Spiderman, Captain America, Captain Marvel, The Avengers, and Wonder Woman. I love seeing that he is not socially biased and that he enjoys books with both superheroines and superheroes.
19. Ten Minutes to Bed Little Dragon – Rhiannon Fielding & Chris Chatterton
This is a book from the Ten Minutes to Bed series, which we absolutely adore. Spike, the little Dragon, doesn't want to go to bed. In this countdown story, you'll fly with Spike and his older sister and go on an adventure to help a lost egg find its way home – and of course, they end up fast asleep in their bed. The rhythm is soothing, and the illustrations from Chris Chatterton are simply marvelous. It is our latest addition to our little library. My son has been asking for it almost every night for the past month. For more books of the series or other bedtime, book suggestions have a look at this post.
Wondrous and Sensational – Our Best Books for 2 year olds
I've put this together thinking about 2-year-olds and with my son in mind. Although we've read many books this year, I didn't want it to be a very long list. So these are really the top hits in our little library. I can assure you that I know at least a page of all of the books listed – after reading them so many times, it is no surprise. And even though I should probably be tired of most of them, they still make me smile after all this time.
I will love to hear if you have enjoyed any of these or other books suggestions that work great for you and your family. So please share with me in the comment section below or on Instagram! We are always interested in discovering new books!
Happy reading! *