15 Great Elephant Books for Kids – Fantastic & Magnificent
Elephants are some of the most amazing animals on our planet. They are native from Asia and Africa and are the largest land mammals weighing up to 9 tons (like three orcas, five hippos, or nine rhinos). These magnificent animals have been celebrated in many cultures as a symbol of strength, wisdom, and good luck. So it's no wonder they awaken such fascination in kids and adults alike. I've put together a list of elephant books for kids that are fantastic for elephant-loving children.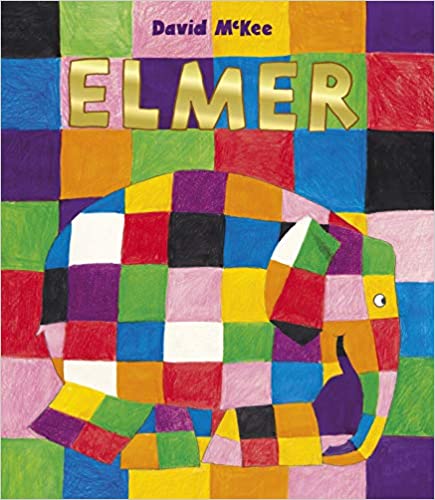 1. Elmer – David McKee
Elmer is a classic that you must read to your child. It is colorful, and the message is lovely. Elmer is a bit different because he is not the same color as the other elephants; Elmer is a patchwork, and he is one of a kind. He wishes he could be grey like the rest… until he realizes that his being different makes everyone much happier. This is a lovely story about accepting & celebrating differences, diversity, and oneself.
2. Strictly No Elephants – Lisa Mantchev & Taeeun Yoo
"Strictly No Elephants" is a lovely and gorgeously illustrated story about a boy and his pet elephant, and the message and values are fantastic. It is a book about friendship, diversity, inclusion, accepting each others' differences, and helping one another. I highly recommend it. You can even listen to this read-aloud book video.
3. Crash Boom! – A math tale – Robie H. Harris & Chris Chatterton
A little elephant has some building blocks to stack. He wants a stack as tall as him! But oh no! It's wobbly and comes crashing down. How can he make a sturdy stack that won't crash boom? It is a lovely story for builders that encourages building, balancing, counting, questioning, and measuring.
4. Horton hears a Who! – Dr. Seuss
Horton the Elephant has excellent hearing and is committed to protecting and saving the Whos that live of a speck of dust. This is a classic story about friendship and respect by the marvelous Dr. Seuss. "A person's a person, no matter how small."
5. Five Minutes' Peace – Jill Murphy
This is the first book of the Large Family. Mrs. Large needs some alone time from her three energetic children. She gets everything ready to go and take a bath because she needs five minutes' peace from her family. But do you think she'll get her quiet and peaceful time? I like this book because it is so real and portrays what happens in our house (and probably all the houses with children). It's a way to explain that mom & dad sometimes need time to themselves, and it is a great way to spark a conversation.
6. The Slightly Annoying Elephant – David Walliams & Tony Ross
One day little Sam hears a knock on the door and is surprised to find an Elephant coming to stay. "You adopted me when you filled in that form at the zoo!". So he lets him in, but the Elephant is quite annoying. It is a funny book that teaches children that we must always read the small print of what we sign because consequences can be pretty significant.
7. That's not my Elephant – Fiona Watt & Rachel Wells
This is a sweet texture book from the "That's not my…" collection that toddlers love. The textures are rough, leathery, squishy, bumpy, and smooth. It's an attention-grabbing book for little ones that are just discovering the world.
8. Ganesha's Sweet Tooth – Sanjay Patel & Emily Haynes
The story of how Ganesha broke his tusk is one of the most popular stories of Hindu mythology. This book is not a retelling of the original story, but it has been loosely based on it. Beautifully illustrated, this is a lovely window to Hindu culture that will make children curious and appreciate other cultures.
9. We Are in a Book! (An Elephant and Piggie Book) – Mo Willems
What a funny story! Gerald the Elephant and his friend Piggie realize that they are in a book and a reader is reading them! It is a very original story that will make little ones laugh.
10. National Geographic Kids Readers: Elephants – Avery Hurt
This is a fantastic non-fiction book filled with facts and natural pictures that will help you explore the world of these extraordinary animals! You'll meet the different types of elephants, learn about their life, understand the herd, and learn all about elephants. They say that their friendliness combined with their ability to connect to humans make dogs one of the most loved animals in the world. Here you can learn a lot about them!
11. Dumbo – The Little Golden Book
This is the classic tale of a little elephant with big ears who ends up becoming the circus star. It is a story of confidence, courage, accepting our differences, love, and family that has been around for over eighty years.
12. My Mom Is There – Martin Thomas & Ag Jatkowska
Being little is not easy for a little one. Speaking, sleeping, walking, counting, reading, swimming… is not simple for a little elephant. But with mum close, he'll one day manage all. Because Mom is always there.
13. The Story of Babar – Jean De Brunhoff
This book is the origin story of Babar and how he became king of the elephants. It is a classical French story with his beloved character. SPOILER: at the very beginning of the story, a hunter kills Babar's mother, and later on, the king of the elephants dies… in both cases quite graphically. I would not recommend it for sensitive children who might find it upsetting. If you are not letting your children see Bambi, I wouldn't read them this story.
14. You Can't Take an Elephant on the Bus – Patricia Cleveland-Peck & David Tazzyman
Never put an elephant on a bus, a tiger on a train, or a monkey on a shopping cart as a disaster will follow. This is a fun rhyming book where animals cause chaos when traveling in the most unsuitable vehicles. My children find it hilarious, and the illustrations are vibrant and wonderful.
15. If Animals Kissed Good Night – Ann Withford Paul & David Walker
It is a lovely story of animals and their babies kissing good night to each other in their sweet ways. The peacocks would dance, the pythons would twirl and twist, the wolves would kiss and howl, and the bears would kiss and growl. I find it adorable.
Warning! After reading reviews on Amazon, I realized a few people find this book inappropriate for kids. I do not see an issue with hugging and kissing my children – I guess it is cultural, and we do it all the time – I thought it is a delightful book. But if you think it might make you feel uncomfortable, this book might not be for your family. So please check some of the others. This book has 50 thousand reviews on Amazon and has five stars, so I believe it is very loved by many, but I wanted to share the warning just in case.
Fantastic elephant books for kids
Depending on your child's age and interests, some books might be more appealing than others. These are our favorite elephant books, the ones my children are growing up with. I hope this selection will be helpful for you and your little (or not so little) one.
I will love to hear if you have enjoyed any of these or other books suggestions that work great for you and your family. So please share with me in the comment section below! We are always interested in discovering new books!
Happy reading! *
P.S. And if they love to draw elephants, go check out this post that I hope they will like – with step by step tutorial on how to draw both Asian and African elephants.