13 Grapat Loose Parts Ideas – How We Love To Play
Grapat loose parts are a great resource for open-ended play. If you are not familiar with them, at first, you may probably think, "and what do you do with them?". Well, I hope I'll be able to answer by showing you all the ways we've come up with playing during the past years. Loose parts play is a fun way to connect and have fun together. There are no rules, there is no right or wrong, you learn from your children, and they learn from you. I believe it is magical.
I was told recently that the more a toy did, the less a child did; and that the less a toy did, the more a child did. It made me think. So these loose parts are a clear invitation to let them do as they please and to let their imaginations fly. And not just for children, but for us as well. The more we practice being creative and work with our imaginations, the more creative we will be. And creativity is a fantastic skill to harness and have in life.
In this post:
About Grapat
Joguines Grapat is a family project that came to be when the founders left the city to bring up their children in a more natural environment. They saw children's play as a sacred moment that should not be interrupted and where adults should just take a step back and let them play at their own speeds and create their own rules. (The only rules to be set are: respect & not hurting oneself, others, the environment, the material, and the creations of others).
They believe that the game in children is like an earthquake that can not be stopped, however much we adults try with all our strength. Their wooden toys come without instructions and as an invitation to let free play, without the time and slowly. You can learn more about them on their website.
They are also from my homeland, and I was so surprised to discover them 3 years ago when living in the UK, not having heard of them when I was back home (2 years before). They are doing a fantastic job and also being completely plastic-free. These beautiful creations are conquering hearts all around the world, and we are not surprised. They are magical!
Our Grapat loose parts collection
Almost without even realizing it, after 3 years, we've built quite a collection of loose parts from Grapat. It all started with the rainbow coins for us, and little by little, it has grown. We have:
Coins
Rings
Spools
Mandala loose parts
Half spheres
Large hoop
Ball
Cones
Honeycomb beaker
Wooden disks
Cup
Nins Tomten
Lola (our latest addition, and we still have to explore even more)
Grapat loose parts by age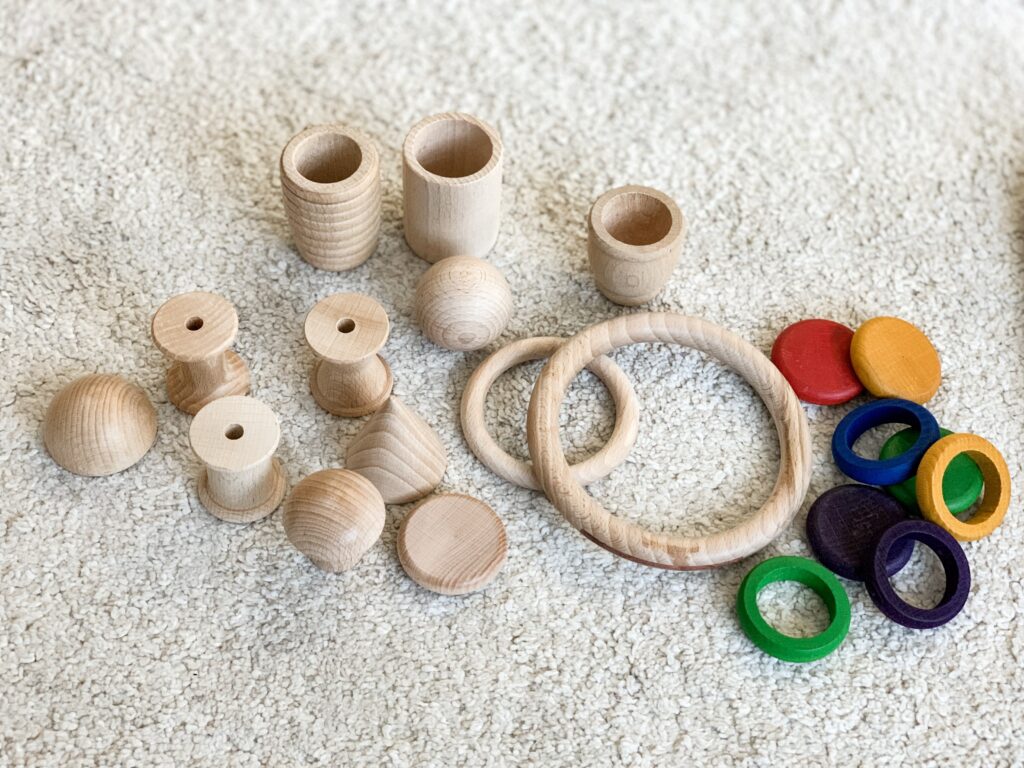 You must make sure that the loose parts you set up to invite your child to play are age-appropriate. I've listed the official recommended ages by Grapat, and you can decide if they fit with your child's development and curiosity. They are fantastic for early loose parts play.
Honeycomb beaker 12m+
Disks 12m+
Cup 12m+
Coins 18m+
Rings 18m+
Large hoop 18m+
Nins tomtem 18m+
Ball 18m+
Spools 18m+
Lola 3+ Due to small parts that could be a choking hazard
Mandala loose parts 3+
What can you do with loose parts?
You can come up with many activities and ways to play with them. Of course, you can show and hint to your little one how they can interact with the loose parts, but it is also fascinating to see what they come up with themselves. They will surprise you. These are some of the things we've done at home that I hope can inspire you:
Treasure baskets
Inserting and taking out
Threading
Stacking
Make drawings and designs
Pretend food
Market – use the coins as coins
Sensory play
Small world play
Color games
Counting games
Season trees
Potion making
1. Treasure basket – 9-18 months
If you've never heard of a treasure basket, I know where you are. With my daughter, we had no idea and never had one. But when my son was born, our fairy godmother gifted us with a treasure basket filled with natural wooden loose parts. She told me it was for heuristic play and that it was great for babies and toddlers. I had no idea what all of that meant.
Then little by little, I left the basket around my child when playing, and I saw what she meant.
"Heuristic" comes from the Greek word "eurisjo" which means "I discover." Heuristic play encourages babies and young children to interact with everyday objects – instead of toys – and discover and learn through them. Through their intuition, they meet challenges and solve the problems that they encounter. This kind of play aims to offer them sensory stimulation that will enable them to discover and learn things for themselves. They are designed to be used when the child can sit and start grasping objects (6-10 months) until they are 18 months old. After that age, we explored many other ways of playing with the loose parts as you will see.
What can they do with the objects in the basket? Let's start simple; they first grab them and move them from one hand to the other. It's the start of hand-eye coordination. They will drop them, hear their sounds, see if they roll, or stay in one place. Next, take everything out of the basket to put them back in later. They can put one thing inside another, hide things, stack them. They can line them up and then generate chaos. This is a very intuitive way to interact with objects, learn about cause and effect, and how the world works. It may seem strange and straightforward to us, but it is really challenging for them.
My son started interacting with it in all these ways, and I realized that he preferred some of the objects in the basket to more elaborate toys. (Really? Yes, I was surprised as well). Of course, we always have combined toys at home (we are not a Waldorf home), but I have seen the benefits of playing with the treasure basket, and I highly recommend it.
What should you put in it?
A selection of loose parts that are big and child-safe. These are the ones from Grapat we have and would put now in the treasure basket for a one-year-old. Half spheres, cone, peg people, mate, mushroom, honeycomb beaker, disks, hoop, cup, peg doll, ball
2. Placing things inside & outside
In and out is one of the early concepts children learn. You can do this with the treasure basket or with any other type of container. You can put nins inside the cup, honeycomb beaker, and mate.
Playing with balls, coins and rings, and a Montessori object permanence box is also a fantastic activity for little ones. It helps them work on hand-eye coordination, fine motor skills, concentration, and precision. This box is aimed at children who can sit up by themselves, around 8-12 months. It can keep them entertained for long periods.
We once found this box at a store in our neighborhood, and we used it a lot when my son was 10-18 months. It came with a wooden egg. This was his first puzzle ever: how to get the object from inside. You can put the mushroom, coins, rings, and any other loose part. I do not know how it is called and haven't been able to figure it out. If you find one, I recommend it. If not, you can make it yourself with a small cardboard box and some elastic band.
At home, we also have the Grapat tinker tray. It can place things during play, sort objects, display treasures, or present an invitation to play. And it all looks lovely in it.
Playing with tongs is an extra level of complexity and helps them gain dexterity with a new tool.
Another way to play with the loose parts is to make holes and slits in a cardboard box and have the children fit them in. Again, coins are ideal for this. You could even color around the hole to encourage color matching.
3. Threading
Threading is a great activity to encourage hand-eye coordination and fine motor skills. The holes of the rings are so broad that they are great to start. You can also thread the spools and the Lola cylinders together. Simply thread them for practice and as an activity. Make sequences or randomly place objects. You can also make big chunky necklaces for fun.
4. Stacking
Stacking objects has many benefits in the early development of a child:
Hand-eye coordination –
Problem-solving – understanding shapes and how to place them on top of each other to balance and stay in place.
Fine motor skills – placing small pieces gently on top of each other to not fall gives many opportunities to develop this skill.
Gross motor skills – if the loose parts are scattered, they may have to move, crawl, and reach to get them.
Sense of accomplishment – when they realize they can achieve something by themselves, the expression on their face is priceless.
5. Make drawings and designs.
Now, this is something for older children, but it's never too early to show them what can be done. It might inspire something in them and they might want to explore and create new things for themselves. We love creating flowers (with coins, or mandala pieces), mandalas, lining colors, geometric designs, or decorating animals made with Grimms semicircles. The possibilities are endless and so much fun.
The mandala pieces are fantastic for more elaborate designs. I can assure you they are not only for children. I have a lot of fun playing as well. It's a relaxing and mindful moment for me, so I assume it can also have these calming effects on kids and other grown-ups.
We have many more animal flat-lay designs to check out 😉
6. Pretend food
My children have always enjoyed using loose parts as pretend food. I'll never forget the first time we played with the rainbow coins, and my daughter (who was 3 years old at the time) started creating a circle and then putting things inside. I was curious because I had no idea what she was doing, so I asked what she was making. "Mummy, it's a pizza! Red is the tomato, yellow is the cheese, purple is the olives…." So, of course, it was a pizza 😅 And it was delicious.
Coins make the best pizzas, rings make the best soups, mandala orange and green cones make the best carrots, and rainbow eggs are like eating the rainbow.
7. Market – use the coins as coins
Using the grapat coins as coins is quite an obvious way to use them. If they are called coins, they should be used as coins as well. Here are some ideas:
They can all have the same value
You can give a value to each color
Maybe you can buy items of the same color. For example, a red item can be purchased with a red coin.
8. Sensory play
Add loose parts to your sensory play. Here you can find some ideas with colored rice and beans:
9. Small world play
Loose parts are also fantastic for decorating and creating small worlds. For example, you can create trees by stacking coins and cones or half spheres on spools. You can create lakes and rivers with blue coins or blue parts. Use colorful pieces as flowers on a field. The possibilities are endless. We love to play with roads and create landscapes with them.
10. Color games
There comes a time (in our case when they were two) when color sorting was a big challenge and a fantastic activity for them. Using the small parts to play can make it more fun. You can ask them to group them into specific colors, match them to the Grimms Rainbow, sort them in the tinker tray, or put them in the mini Bilibos… it can be great fun!
11. Counting games
Using the loose parts for counting is also a great idea. They are a great resource and you can come up with many games to help them learn numbers while having fun.
12. Season trees
Go outside, gather some branches and create your tree on the floor. Autumn, winter, spring, summer, or even mixing both seasons to see how they change. This is a lovely activity to work on seasonal colors and an activity with a close link with nature.
13. Potion making
I built this set-up for my children some days before Halloween to surprise them when they got home from school. A witch & wizard's den so we could create potions with grapat loose parts.
I was inspired by @tillystoys potion activity and had a lot of fun setting it up.
I created these potion and spell sheets so they could color-match the ingredients needed to make the potion. It was a lovely idea in my head, but it did not go to plan with mine.
When they got home and saw it, they were surprised and loved it (it's not usual for me to do this at all). But did my children play how I expected play would go? Not at all 😅
Each of them interacted differently, and it sparked other ideas in their imagination. ✨
I must admit that I was a little stung (I had been creating these potions and spell sheets the night before, and they weren't interested at all), but then I realized…
This has sparked other things that they would not usually do…
and because they were playing differently than what I had in mind, magic was happening right in front of me
✨ That was where the true magic was ✨
In their play.
And then, I joined in, and it was magical ⭐️
I left the potion sheets around, and we played with them another time and had fun. But I wanted to share with you my experience. Because you may see all these beautiful pictures and activities around (on Instagram, Pinterest, here), it is not as perfect as it may seem.
Where to buy Grapat loose parts
If you want to buy Grapat loose parts you will most likely find them in toy shops with open-ended toys or Waldorf and Montessori style toy stores. Probably in the biggest city near you, you might have some that you can go in and explore.
If that were not the case there, luckily, there are online stores where you'll be able to find them. Unfortunately, it is not listed on Amazon… but I am sharing other web pages I have bought from while living in the UK and in Spain (some are local, but others have international deliveries). Additionally, although I haven't been there, from their IG and from IG accounts of people living there, I will also recommend Australia and the US (based on their comments and opinions).
Store with International deliveries
Babipur.co.uk – You'll even find a whole Grapat section on their site, and they deliver worldwide.
Oskar's Wooden Ark – They are based in Australia, and they also provide international shipping to selected countries (New Zealand; United States; Canada, Singapore & South Korea) using Australia Post.
Store with delivery in the UK
onehundredtoys.com – This website is fascinating. Aside from having a store, they offer free gift guides for different ages. I've learned a lot from them and highly recommend checking them out.
Stores with delivery in Spain and Portugal
Jugar i jugar – Their toy portfolio is beautiful. It's been my favourite option lately if you are in Spain. Their customer service is great. If you purchase before 2pm, you get your delivery the next day.
mumuchu.com – Also a very nice online store; however, unfortunately only local.
Store with delivery in the USA
Bella Luna Toys – They have a wide selection of Grapat toys and most of the Mandalas. I've never ordered with them (I haven't been in the US since I've had children), but they seem very nice, have a lovely online store, and have excellent customer reviews.
Grapat loose parts have been an incredible discovery for our family
Really, we are perfectly imperfect, and our playtime is as well. And I hope this makes you feel better because most of the time, it is chaos. But if you embrace the mess, you can find magic inside, and you will be surprised.
So let them do, let them experiment, let them play their own way. And also, you play, experiment, and have fun in your own way. Sometimes you'll just be side by side doing your own thing, sometimes you'll learn from them, sometimes they'll learn from you, but those moments can be truly magical.
All these loose parts bring me many memories when I hold them in my hand. They are beautiful and wonderful.