Awesome Animal Books for Kids Who Love All Creatures
The dog says "woof". The cat says "meow". The cow says "mooo". And the baby says "wow". Some of the first sounds our children will make are animal sounds. They are fascinated by them and quite easy to replicate. They are great easy concepts to teach them at first, and because of it, that is why animal books for kids are some of the best early reading choices to make for your children.
At home we started with pets, followed by farm and forest animals and then we went more exotic ones from the jungle and other faraway places (from penguins to whales).
There are soooo many books about animals for children or with animals as the key protagonists that the list could go on and on forever. I have split the list into age groups, of course books can go beyond an age or you can read earlier – they are all child friendly so feel free to decide what is best for you 😉 I just thought splitting them might help and I used as reference what my children enjoyed most at different stages.
Here are our favorite animal books for kids.
Animal books for 0 to 2 year old kids
1. The Very Hungry Caterpillar – Eric Carle
A classic story for little ones about a tiny caterpillar that is very hungry and eats for a whole week… and I do not want to spoil the ending 😉 It teaches children about the days of the week, counting small numbers, fruits and about change.
2. Brown Bear, Brown Bear, What Do You See? – Bill Martin Jr. & Eric Carle
A short rhythmic story with vivid animal illustrations from Eric Carle that is perfect to introduce colours to your little one. This book is a great board book to have in your little library.
3. First 100 Animals – Roger Priddy
Great book with photographs of animals and their names. Colorful and real, it will help your toddler understand the concept of the animal and link it to the real image of it. Illustrations are great but being able to see what the animals really look like is fantastic for children that are learning how our world works.
4. Where's the Dog? – Ingela P Arrhenius
A very simple but vibrant book with felt flaps that your child will love to discover. It is very sturdy and fun with a mirror at the end. Where is Mr. Mouse? And Cat? And Bird? And Dog? And you? This is one of our favorite animal books for babies.
5. Where's Mr. Lion? – Ingela P Arrhenius
Another lovely book by Ingela P. Again, very simple but with colorful illustrations with felt flaps that your child will love to lift and discover who is underneath. Elephant, Giraffe, Crocodile and Lion are your new best friends here. There are many more in the series that you might love.
6. Farm Sounds – Usborne Sound Books
This is a nice sturdy book with lovely rich illustrations where your toddler can hear some farm animals' sounds. They can easily press it and enjoy it by themselves.
7. Jungle Sounds – Usborne Sound Books
Another lovely illustrated Usborne Sound Book, but with jungle sounds instead. You can hear the jungle at night, a tiger, a parrot, an elephant, a frog and more. It's great for them to pick up and enjoy on their own.
9. Oh, No, George! – Chris Haughton
George is a great dog with a big heart. But sometimes his impulses take over and he can't help himself. He thought he'd be good, he said he'd be good… but he wasn't. It deals with his emotions and how he learns from his mistakes. Like "Shhh! We have a plan", the illustrations are modern and monochromatic and communicate greatly what is happening. Beautiful and sweet and great to chat about making sad choices and how to learn from our mistakes.
10. Where's Spot – Eric Hill
This is a classic. I remember reading it over and over when I was a child. Maybe you did too. Spot's mother is looking for Spot all around the house. Is he under the bed? Inside the piano? Behind the door? And in each hiding place we see other animals waiting. From a bear to a crocodile. It is fun and it is great to build anticipation and get a reaction.
11. Hide-And-Seek-Pig – Julia Donaldson & Axel Scheffler
Fun lift the flap book with rhyming story where we help Pig find Hen, and on the way we discover many other animals. Lovely story and illustrations from the creators of The Gruffalo.
12. Guess How Much I Love You – Sam McBratley & Anita Jeram
It is a sweet story of Little Nutbrown Hare and his father Big Nutbrown Hare. The little hare asks his dad "Guess how much I love you?" and it is a tender competition of who loves each other more: "I love you this wide!" "I love you this high!" "I love you that far!". A charming story with beautiful illustrations with its famous quote "I love you to the moon… and back."
13. If Animals Kissed Good Night – Ann Withford Paul & David Walker
A lovely story of animals and their babies kissing good night to each other in their own sweet ways. The peacocks would dance, the pythons would twirl and twist, the wolves would kiss and howl and the bears would kiss and growl. I find it adorable.
Warning! After reading reviews on Amazon, I realised a few people find this book inappropriate for kids. I personally do not see an issue with hugging and kissing my children – I guess it is cultural and we do it all the time – I thought it is a very sweet book. But if you think it might make you feel uncomfortable, this book might not be for your family. Please check some of the others 😉 This book has 50 thousand reviews on Amazon, and has 5 stars, so I believe it is very loved by many, but wanted to share the warning just in case.
14. Goodnight Tractor – Michelle Robinson & Nick East
This is such a charming story about a little boy that wishes goodnight to his truck, his toys and animals around the farm. With a very serene rhyming text and beautiful and relatable illustrations this can become your toddler's favorite if he loves all things farm related. This book also belongs to the Goodnight Series, and is a great read for ages one and up. If you are interested in other bedtime stories you'll find more here.
15. Little Blue Truck – Alice Schertle & Jill McElmurry
Little Blue Truck is the friendliest truck you have ever seen. He says hi and is very nice to all the animals around the farm. And when Little Blue is in trouble, they all turn up to help him out. A nice story about kindness and friendship and the first of the Little Blue Truck series which are lovely.
16. Orange Pear Apple Bear – Emily Gravet
Deliciously simple. Perfectly fun. This book plays with just five words: apple, pear, orange, bear and there.
17. Animals – Ingela P. Arrhenius
The biggest book you'll probably own, it has lovely huge animal illustrations with a scandi look. There is no story, just lovely illustrations with the name of the animal. It is beautiful to use as decoration on your child's shelves, and you can even frame some pages and it would make for amazing wall art.
Animal books for kids: 3 to 5 year olds
18. The Snail and the Whale – Julia Donaldson & Axel Scheffler
This is a tale about friendship, a tale about dreaming big even if you are small and a tale about helping one another. It is a fantastic book with beautiful illustrations. Friends come in all shapes and sizes, ask the Snail and the Whale 😉 It is also a great movie for toddlers – just 25 minutes long and brilliantly animated (we have it in DVD but it is also sometimes on Amazon Prime).
19. The Gruffalo – Julia Donaldson & Axel Scheffler
This tale is a modern classic and one of our favourite books at home. (We even have all the characters as plush animals so we can tell the story even better). If you haven't heard the story it is a brilliant one about a mouse who outsmarts every predator he finds in his way, even the big and scary Gruffalo. It all starts with a stroll in the woods and it is simply wonderful.
20. Strictly No Elephants – Lisa Mantchev & Taeeun Yoo
This is a lovely and gorgeously illustrated story about a boy and his pet elephant, and the message and values are fantastic. It is a book about friendship, diversity, inclusion, accepting each others' differences and helping one another. I highly recommend it.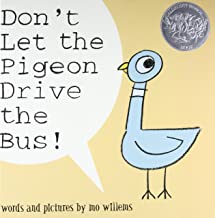 21. Don't Let the Pigeon Drive the Bus! – Mo Willems
This book is simply brilliant and my children find it hilarious. A pigeon has a dream: he wants to drive a bus. The bus driver leaves and asks us to look after the bus and not to let the pigeon drive it. So once he leaves the pigeon tries many different ways to convince us of driving it – to which we say No – leading to a big tantrum and – SPOILER ALERT – him not getting what he wants (because of course it is a ridiculous idea for a pigeon to drive a bus). It is a great example of a toddler tantrum, and a way to make them understand that sometimes they can't get what they want. We laugh each time.
22. Oi Frog! – Kes Gray & Jim Field
Hilarious laugh out loud book where we discover there is a ridiculous seating system for animals that says they can only sit on things they rhyme with. Frog finds sitting on a log uncomfortable and would like to sit someplace else, but * SPOILER * cat says it's not about being comfortable but about doing "the right thing". I believe it is an interesting read at another level, it opens the door to questioning why we do certain things, is "the right thing to do" really the right or the only thing we can do?
23. Oi Dog! – Kes & Claire Gray & Jim Field
This book is the sequel from "Oi Frog!" where frog decides to change the rules. He doesn't want to sit on a log – he wants to sit on a dog instead. And so all the rules from the previous book get messed with and it is brilliant. Really funny too.
24. How to Hide a Lion – Helen Stephens
Little Iris has a new friend – a big and friendly lion. But she must hide him around the house – because as you may imagine moms and dads can be a bit funny about having a lion around. Behind a curtain, under the bed, behind the sofa… will she be able to hide him forever? It is a lovely book with timeless illustrations that you will all enjoy.
25. Superworm – Julia Donaldson & Axel Scheffler
ASuperworm is super-long and super-strong and the friendly hero to the garden creatures. When Superworm is in trouble they all come together and hatch a plan to save him from a wizard lizard that has him under his spell. A nice tale about helping and friendship from the creators of the Gruffalo.
26. The Highway Rat – Julia Donaldson & Axel Scheffler
This is the tale of the Highway rat, a bandit that rides the highway stealing the traveler's food – especially craving cakes and biscuits – and leaving everyone hungry and afraid. Eventually the rat is tricked by a clever duck and he gets his comeuppance by ending working in a cake-shop – his greatest temptation of all. It is an engaging story and has also been animated and can be found usually in Amazon – although we have the DVD and my 2 year old son loves it and knows it by heart.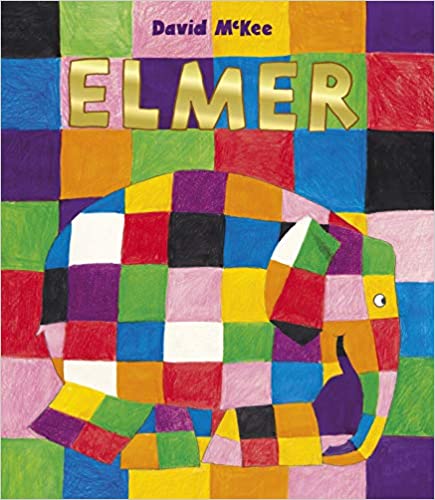 27. Elmer – David McKee
Elmer is a colourful elephant like no other, that he wished he could be grey like the rest… until he realises that him being different makes everyone much happier. This is a nice story about accepting & celebrating differences, diversity and one self. It is lovely.
28. Five Minute's Peace – Jill Murphy
Mama Large is a mom of 3 elephants and is exhausted by the chaos in her house… she just longs for 5 minute's peace – "me time" in the bath – (already I feel this story is talking about me 😅) – do you think she'll be able to enjoy them peacefully? I invite you to find out.
29. Giraffe's Can't Dance – Giles Andreae & Guy Parker-Rees
Gerarld Giraffe just wants to dance, but it is not as easy for him as for other animals with his long body. He feels discouraged when the rest of animals laugh at him and it makes him sad. But at last he finds he can dance to his own tune with the encouragement of an unlikely friend. It is a sweet tale of encouragement and inspiration for every child who likes to dream big.
30. Rumble in the Jungle – Giles Andreae & David Wojtowwycz
They read this book at my daughter's nursery and for a time we would read it every night. It's a collection of poems, each one about a certain animal. Lions, Chimpanzees, Elephants, Snakes and the whole lot. Filled with bright illustrations and 3 ants that you must find hidden in each page.
31. Commotion in the Ocean – Giles Andreae & David Wojtowwycz
Another collection of delightful rhymes but for animals that live in the Ocean. You'll find dolphins, penguins, sharks and whales – and 3 starfish hidden in each page.
32. The Wonkey Donkey – Craig Smith & Katz Cowley
This is a cumulative and funny story about a a spunky, hanky-panky, cranky, stinky, dinky, lanky, honky-tonky, winky wonky donkey! It is a great book to read aloud and laugh all the way through.
33. A Tiger came to Tea – Judith Kerr
This is a timeless English classic that has been around for over 50 years. Sophie hears a knock on the door and is surprised by a big stripy visitor. They invite him in for tea (dinner) and he is very very hungry. It is sweet and fun.
34. Alan's Big Scary Teeth – Jarvis
Alan comes from a great line of scary crocodiles. But is that really who he is and who he wants to be? It is a hart-warming tale about self-discovery and letting others see you for who you really are. Placed in the jungle with colourful animal's, Jarvis' illustrations are absolutely gorgeous.
35. The Koala Who Could – Rachel Bright & Jim Field
Kevin is a koala that likes his life just the way it is, hanging from his favourite tree. But when change comes along and he steps outside his comfort zone he is more surprised than anyone! It is a lovely rhyming book about change with beautiful illustrations that will win you over.
36. Cockatoos – Quentin Blake
Professor Dupont's 10 cockatoos have decided to teach him a lesson and are hiding around the house. This is a fun counting book that will keep your child entertained counting cockatoos.
37. Detective Dog – Julia Donaldson & Sara Ogilvie
Peter's dog Nell has an amazing sense of smell. When she is not saving cases she goes with Peter to school where they enjoy listening the children's reading all kinds of books. But one day, they go to school to find out that they have all disappeared! Can they solve the case and find all the missing books? It is a fun story about books, passion for reading and the friendship between a boy and his dog.
Animal books for kids: 6 year olds and above

In this group I decided to focus more on nonfiction books, and books that would teach young readers about animals and nature from home.
38. Lift-the-flap Questions and Answers about Animals – Usborne – Katie Daynes & Marie-Ève Tremblay
This is a great book for learning about animals. Filled with questions and answers that will not only teach your child facts about animals, but I can assure you will also learn from.
39. What Do You Do With A Tail Like This – Steve Jenkins & Robin Page
Great nonfiction books to learn about animals and how they use the same body parts in such different ways. With child-friendly text it is a quick and easy read. We found this animation on youtube that is wonderful as well. Steve Jenkins is a great author who focuses on teaching about animals in a very engaging way.
40. National Geographic Little Kids First Big Book of Animals – Catherine Hughes
This is a great book to start with real facts and images of animals. It focuses on 32 great-interst animals like dolphins, cheetah's, penguins, butterflies, giraffes and more. It is very colorful filled with photography, with short sentences with big font that is ideal for early readers who are very interested in wild-life or for parents or grandparents to read aloud.
41. The Animal Book: A Visual Encyclopedia of Life on Earth – DK Smithsonian – David Burnie & Smithsonian Institution
An amazing visual encyclopedia for older children (8+) with over 1,500 species of animals that range from bacteria to polar bears and anything in between. It explores a wide variety of habitats, shares facts, and provides a great learning experience for curious children about animal life.
Fantastic animal books for your kids
Depending on your childs age and interests some books might be more appealing than others. These are our favourites, the ones my children are growing up with and the ones I know by heart. I hope this selection will be useful for you and your little (or not so little) one.
I would love to hear if you have enjoyed any of these or if you have other books suggestions that work great for you and your family. Please share with me in the comment section below! We are always interested in discovering new books!
Happy reading! *
You might also be interested in…