+40 Epic Grimms Rainbow Large Animal Ideas – Wonderful
Have you ever made animal figures with a Grimm's Rainbow? We love it! The Grimms Rainbow large version is just so versatile, and you can do so much with it! You can create fish, insects, mammals, and reptiles; you name it! I've put together this post with ideas of animals you can make with the wooden rainbow. I hope you and your little one will love doing this as much as we do.
The rainbow is a fantastic creative resource. I love it not only for my children but for myself. I really enjoy playing with it. As parents, we spend so many hours playing with our children that I am guilty of buying toys I enjoy playing with. I genuinely believe that when you let your inner child out and let go of all those adult restrictions, it's when you best connect with your children; those are the memories we will cherish forever.
In this post:
Our story with the rainbow
First of all, let me tell you about our rainbow. A wooden rainbow is one of the most versatile open-ended toys you will ever find. It is wonderful.
When my second child was born, I put it down on the baby registry (as we would be reusing many things from our firstborn), and I thought it would look cute to decorate the nursery. I had seen it on Pinterest in many baby and toddler rooms; however, I had never interacted with one.
The day we got it, a door to a new world opened for us. My daughter was three at the time and just loved it. We started building towers, figures, and tunnels. I was curious about what other things we could create, and then I came across an Instagram account called @the.way.we.play in 2018, which blew me away. I would never have come up with the idea by myself then, and it was just so much fun.
Animals soon became our favorite thing to create. We've been making animals for four years, and we'd love to share what we've done.
About the Grimms Rainbow Large
Before we start, let me tell you about the rainbow. The large version of the Grimm's rainbow has 12 arches. You can find it in rainbow colour, pastel, natural, greens, and other versions. So there are many options for you to choose from.
It is manufactured in Germany, at the foot of the Swabian Alb, by toy manufacturer Grimms Spiel und Holz Design. They are a sustainable wood manufacturer that produces beautiful natural, high-quality toys from wood.
They are guided by the Waldorf education principles and other reform approaches such as Montessori.
We have a little collection of Grimm's toys, which are much loved and played with at home. You can check out our collection here.
Grimms Rainbow Large Animals
As I mentioned before, I first saw animals created with the rainbow by @the.way.we.play on Instagram in 2018 when my son was born. At that point, we were pretty new at open-ended toys and play. So, open-ended toys don't come with instructions; they are just invitations to become whatever you want them to be. As a result, they are versatile, and you must use your imagination while playing.
I once read, "The more a toy does, the less a child does. The less a toy does, the more a child has to do." And I feel it is so true. Give them a rainbow and see what they come up with.
But at some point, you might want to explore what other people have come up with before you, and it is a fantastic way to learn and open your mind. So, in the beginning, we started replicating creations from @the.way.we.play. These are our favorite ones:
I recently discovered this other account, @brillantosa, that you must also have a look at. These are some replicas of some of her creations:
The rest of the creations here are all original and ours. I really hope you will love them.
I've decided to group them into animal categories, so it might be easier for you to navigate (in case you have some favorite animals).
Birds
These feather-winged animals are just wonderful to create. Some attempt to represent real birds like owls, chickens, toucans, and flamingoes. But many others are simply products of our imagination. We gave them a beak and some wings and you can see a bird.
Sea animals
Animals that live in the sea are quite magical. They can have many legs, claws, fins and tails.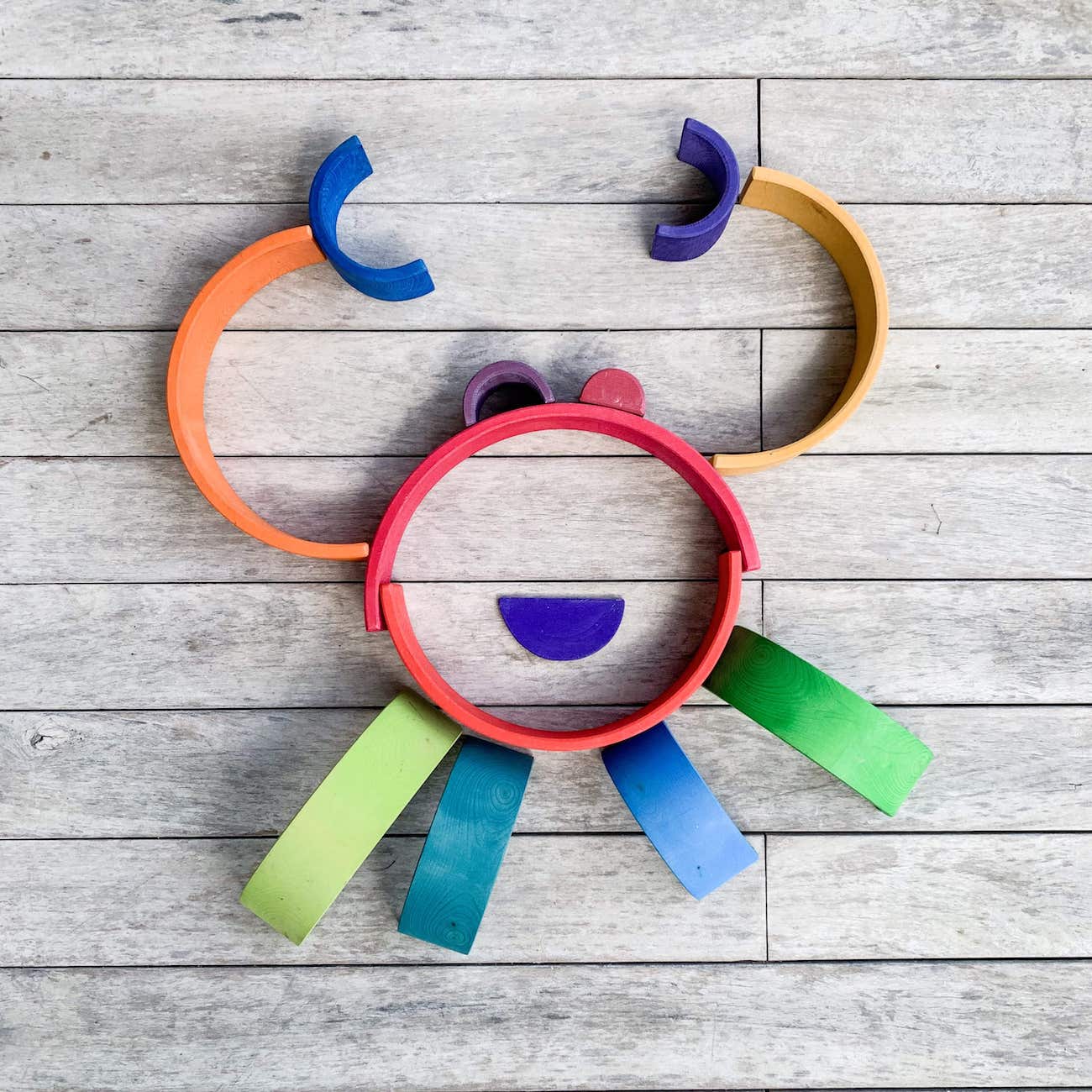 Reptiles & Amphibians
Who wants a snake, turtle or some frogs?
Mammals
From leopards to bats. You can find quite a collection here 😉
Insects
The best complement: Grimm's Rainbow Balls
As you've seen, not all animals have been created exclusively with the rainbow. Most of them have eyes and other details made with Grimm's Balls. Grimm's balls are very versatile. Of course, you can roll them, but they can be used for so much more. I like using them as eyes or details.
There is a trick with Grimm's balls: if you look very closely, there is a specific point in each ball that is slightly flatter than the rest of the ball's surface. So, if you do not want the ball to roll around (especially on a hardwood floor), you can always try to use that flatter part as the base. (I hope this helps).
If you'd like to see more ideas of how to play with the balls, check them out here.
Inspiring accounts that will invite you to play
For even more ideas, please check out these accounts and posts that will inspire you, even more, to play with the rainbow:
How to clean Grimm's toys
This is advice directly taken from their website:
TIP: If you want to remove dirt from our products, simply wipe it off with a damp cloth and a little soapy water (if necessary). Please do not place it on the heater when drying; otherwise, cracks may appear in the wood, but allow it to dry at room temperature. Please do not under any circumstances clean our products with disinfectants, hot water, or the like!
Where to buy the Grimms rainbow large version?
You most likely will find the rainbow in wooden toy shops or Waldorf and Montessori-style stores. In the biggest nearby city, you might have some that you can go in and explore.
If, unfortunately, there aren't any stores like this nearby, there are plenty of online stores where you'll be able to find it. Aside from Amazon, I am sharing other web pages I have bought from while living in the UK and Spain (some are local, but others have international deliveries). Although I haven't been there, I will also recommend stores from Australia based on IG accounts of people living there (based on their comments and opinions).
Store with International deliveries
Babipur.co.uk – You'll even find a wide Grimms section on their site, and they deliver worldwide. Their customer service is fantastic. Although since Brexit personally getting deliveries to Spain from the UK hasn't been easy and in some cases returned to the UK – so if you are in Spain I'd recommend you go for a local store.
Smallable – A lovely family concept store with clothes, decoration items, and beautiful toys.
Oskar's Wooden Ark – They are from Australia, but they also provide international shipping to selected countries (New Zealand; United States; Canada, Singapore & South Korea) using Australia Post.
Amazon – I could only find the pastel version here. Check out the sister site of your region and that it's an original from Grimm's Holz und Spiel.
Store with delivery in the UK
Babipur – of course, you have Babipur. They are from the UK, and you'll find the iconic rainbow here.
Stores with delivery in Spain and Portugal
Jugar i Jugar – Their toy portfolio is beautiful. It's a fantastic option if you are local. Their customer service is excellent. If you purchase before 2 pm, you get your delivery the next day.
Aupali – It is a store in Barcelona, located in the neighborhood of Sarrià, filled with surprising toys you'll love. If you are ever in town, I suggest you make a stop. They also have an online store that delivers to the whole Peninsula and the Islands.
mumuchu.com – Also a very nice online store; however, unfortunately only local.
Store with delivery in the USA
Bella Luna Toys – You'll find the large rainbow and an extensive range of Grimm's toys. I've never ordered from them (I haven't been in the US for years), but they seem very nice, have a lovely online store, and have excellent customer reviews.
Store with delivery in Australia & New Zealand.
Oskar's Wooden Ark – Based in Australia, they also provide international shipping to selected countries (New Zealand; United States; Canada, Singapore & South Korea) using Australia Post.
Little Toy Tribe is currently shipping orders within Australia through their website. If you are from New Zealand, contact them through email with the list of what you'd like, and they'll send a shipping quote.
Store with delivery in Malaysia
Bueno Blocks – They are the Malaysian distributor for Grimm's toys and have an impressive range of toys. They are a very kind family-owned business that wishes to bring these toys to families in Malaysia.
Creating Grimm's Rainbow Large Animals is more than just fun!
Creating animals can be fun, but it is much more than that. At first, replicating things that others have created will help them focus, have attention to detail and position, spatial awareness, and composition. 
It will also surprise you at how it will help their memory. My children randomly decided to pull a figure together that we did the day before or even some time ago by memory. They remember it.
And then, one day, they can surprise you with their own creations. You'll see their imagination take new heights, and the satisfaction on their faces when they have made something original is simply priceless.
Again, this is not just a game for children. This is a toy for all who are children at heart (maybe not all the time, but at least some time occasionally 😉 ). When you let that child inside you come to life, it's when you best connect with your children. Those moments are priceless. (And if you have toys that YOU actually enjoy playing with, you'll have more of these moments for sure 😉 ).
Happy playing!