We Love Our Julia Donaldson Book Collection – So Surprising!
I was going through our little library the other day, and I realized we have quite a Julia Donaldson book collection at home. We love her books. Particularly the ones she does in partnership with the fantastic illustrator Axel Scheffler. Those are our favorites.
We discovered Julia Donaldson's picture books when we moved to London. Our daughter was 16 months old at the time, and when we went to bookstores, like Waterstone's, we would always see a whole impressive section dedicated to her books (which we had never heard off back in Barcelona). She is a very famous and loved children's author in the UK.
One random day, my husband came home with a bag with a collection pack of 10 books. So our love story with her books began.
In this post…
Why we love Julia Donaldson's books
I really think she is brilliant. I admire her ability to come up with so many different stories. And with Axel Scheffler's illustrations, the combination is unbeatable.
We like that her main characters are not traditional heroes or heroines. They are not particularly good-looking in the conventional sense – they are wonderfully normal – but with great hearts, and I think it is a breath of fresh air compared to books that portray traditional stereotypes, looks, and roles.
You have a mouse, a snail, a whale, a witch, a worm, a dragon, a princess that doesn't want to be a princess, a fish, a scarecrow, a little old lady,… and of course, a Gruffalo. And so many more unique characters you'll just grow fond of.
We also love the rhymes and the rhythm. There are repetitions in the books, which are great for children to learn the words and the flow of the story, so they can repeat with you. When my daughter was 2, she loved the Gruffalo so much that she knew most of it by heart (we must have read it over 50 times).
Our Julia Donaldson book collection
These are the books from Julia Donaldson that we have at home. I was doing my best to list them from most favorite to the least – but I decided to get some help from our little expert. So this is my 5-year-old daughter's ranking. I hope you will like them!
1. The Snail and the Whale – Julia Donaldson & Axel Scheffler
TThis is a tale about friendship, dreaming big even if you are small, and a tale about helping one another. It is a fantastic book with beautiful illustrations. Friends come in all shapes and sizes; ask the Snail and the Whale 😉
2. The Gruffalo – Julia Donaldson & Axel Scheffler
This tale is a modern classic and one of our favorite books at home. (We even have all the characters as plush animals to tell the story even better). If you haven't heard the story, it is a brilliant one about a mouse who outsmarts every predator he finds in his way, even the big and scary Gruffalo. It all starts with a stroll in the woods, and it is simply fantastic.
3. Zog and the Flying Doctors – Julia Donaldson & Axel Scheffler
We fly with Zog, Princess Pearl, and Gadabout the Knight in this book and see them taking care of magical creatures everywhere. But when they visit Princess Pearl's uncle one day, he captures her and doesn't let her leave because he feels princesses shouldn't and can't be doctors. But Pearl, with the help of her friends, proves him wrong! Princesses can be doctors and anything they put their hearts into.
4. Zog – Julia Donaldson & Axel Scheffler
Zog is a friendly dragon that goes to dragon school. Each year he learns a skill that all grown dragons need to know. He must fly, roar, breathe fire, capture princesses, and fight knights. But what he wants above all is to win a golden star. He tries and tries and does his best, but winning that star is not easy. It is a lovely story about effort, persistence, friendship, and following your dreams, even if they are a bit unconventional.
5. The Highway Rat – Julia Donaldson & Axel Scheffler
This is the tale of the Highway rat, a bandit that rides the highway stealing the traveler's food – especially craving cakes and biscuits – and leaving everyone hungry and afraid. Eventually, the rat is tricked by a clever duck, and he gets his comeuppance by ending working in a cake shop – his greatest temptation of all. It's been a favorite of my son this past year. Check out other books that are great for 2-year-olds in this post 😉
6. The Smeds and the Smoos – Julia Donaldson & Axel Scheffler
In a far of planet live the red Smeds and the blue Smoos. They are physically different and like doing different things and also enjoy eating different foods. Smeds and Smoos simply don't mix or interact; they stay apart from each other. But one day, Bill (a Smoo) and Janet (a Smed) meet in the wurpular wood and discover that they like being together even though their families want them to be apart. This is a beautiful story about diversity, accepting differences, and it teaches that love has nothing to do with one's skin color.
7. Room on the Broom – Julia Donaldson & Axel Scheffler
We love this brilliant book where kindness and friendship are at its heart. The witch and her cat fly on a broom high across the sky, but the wind blows away her hat, bow, and wand. Lucky for her, three animals help her find her lost items, and they ask to tag along, to which she always says "Yes!". Unfortunately, their broom breaks as they encounter a Dragon who wants to eat the witch for tea. They all join forces to help her kind friend who is in need!
8. Stick Man – Julia Donaldson & Axel Scheffler
Stick Man is a family stick man who lives in a tree with his stick lady love and three stick children. But one day, Stick Man goes out for a jog, and after he is fetched by a dog, he embarks accidentally on an adventure that takes him farther away from home. Finally, after the seasons pass and getting repeatedly confused with a stick, the story ends on Christmas eve, and – SPOILER – he is finally reunited with his family.
9. Tiddler – Julia Donaldson & Axel Scheffler
Tiddler is a little fish with an enormous imagination. He likes to fib and make-up stories every time he is late for school. "Sorry I'm late, Miss. I set off really early, but on the way to school, I was captured by a squid… ". One day he really gets lost, but he hears a story that leads him home. It is an entertaining story about an entertainer. Look out for the Gruffalo fish hidden amongst the pages.
10. Tyrannosaurus Drip – Julia Donaldson & David Roberts
Drip is a duckbill dinosaur that accidentally hatches in a Tyrannosaurus' nest. He is clearly very different from his "parents" and "sisters," he likes other things, and he doesn't feel he fits in. They make fun of him and his tastes; he wants to eat veggies, is peaceful, and doesn't like hunting. It's a fun story about being different and finding your place. Also, I'm sure vegans will like Drip a lot.
11. The Gruffalo's Child – Julia Donaldson & Axel Scheffler
The Gruffalo's Child has heard the terrifying story of the Big Bad Mouse from her dad and is warned to not set foot in the deep dark wood. But she is not scared… does he really exist? So one night, she decides to go into the wood and find the mouse herself. A story about wit and how size is not all, and even the smallest creature can outsmart scary beasts.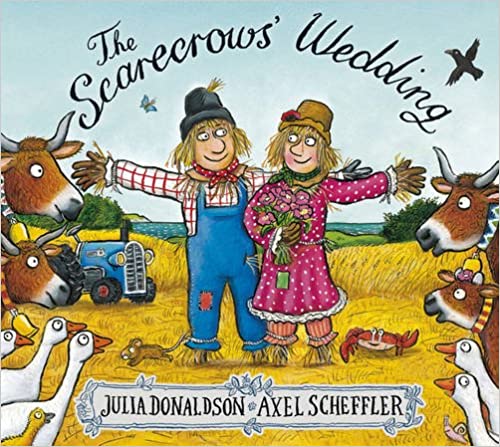 12. The Scarecrow's Wedding – Julia Donaldson & Axel Scheffler
Betty O'Barley and Harry O'Hay were in love and wanted to marry one day. They make up a list of all the things they need for the special occasion and go in search of them. Once they locate them with the help of their farm friends, they cross them off the list. The final item, some flowers, is not so easy to get but Harry saves the day!
13. Superworm – Julia Donaldson & Axel Scheffler
Superworm is super-long and super-strong and the friendly hero to the garden creatures. When Superworm is in trouble, they all come together and hatch a plan to save him from a wizard lizard that has him under his spell. A lovely tale about helping and friendship.
14. A Squash and a Squeeze – Julia Donaldson & Axel Scheffler
A little old lady has a problem, her house is just too small, even for one. So she asks the wise old man for advice. He suggests inviting animals from the farm to live inside the house as well. Finally, when she invites them out, she realizes that her house is not small to begin with. This is the first book that Julia and Axel wrote and illustrated together as partners, and it is terrific.
15. Fox's Socks – Julia Donaldson & Axel Scheffler
Oh no! Fox has lost his socks! Where could they be? He goes around the house lifting flaps until he finds his pair and is ready to go. When he turned two, my son loved this book and really enjoyed interpreting it and answering our questions… "could the socks be in the cupboard?" "nooooooo". He laughed every time, and for me, this memory is priceless.
16. Monkey Puzzle – Julia Donaldson & Axel Scheffler
Oh no! Little Monkey has lost his mum! But a friendly butterfly will help him try to find her. Unfortunately, they see all the wrong animals… until they find – SPOILER – Dad! Who luckily knows where mum is and is waiting for a big cuddle! It's a lovely book to meet jungle animals and teach that not all baby animals grow up to be an exact bigger version of themselves (for example, butterflies were born as caterpillars).
17. Hide-and-Seek-Pig – Julia Donaldson & Axel Scheffler
Fun lift the flap book with a rhyming story where we help Pig find Hen, and on the way, we discover many other animals. Lovely story and illustrations, which are great for little ones (1 and 2-year-olds). An excellent option for one of the first.
18. Charlie Cook's Favorite Book – Julia Donaldson & Axel Scheffler
This is a curious book about Charlie Cook who is reading a book about a pirate captain, who is reading a book about Goldilocks, who is reading about a knight, who is reading about a frog . . . It's an original book about reading.
19. The Smartest Giant in Town – Julia Donaldson & Axel Scheffler
Meet George, the scruffiest giant in town. But one day he sees a new shop is selling clothes that will fit him! So he decides to go for a new look: smart trousers, a smart shirt, stripy tie, new socks, and shiny shoes! He is now the smartest giant in town! But along the way, he finds some animals that need his help – and his clothes may be of more use to them than to him. A funny and heart-warming story about kindness is more important than one's looks.
20. Detective Dog – Julia Donaldson & Sara Ogilvie
Peter's dog Nell has an incredible sense of smell. So when she is not saving cases, she goes with Peter to school, where they enjoy listening to the children's reading all kinds of books. But one day, they go to school to find out that they have all disappeared! Can they solve the case and find all the missing books? It is a fun story about books, passion for reading, and the friendship between a boy and his dog.
21. The Gruffalo (puppet book) – Julia Donaldson & Axel Scheffler
This is a short adaptation of The Gruffalo with a Gruffalo puppet going through the board book pages. It is a fun addition to The Gruffalo series, where you can scratch the Gruffalo's warty nose and tickle his prickles (and, of course, give him a cuddle at the end if you wish). An excellent version for little ones.
Also as fantastic animated short movies!
8 of these books have been adapted to fantastic 20-25 minute long animated TV movies. They are the first movies we ever saw with our daughter, and they are amazing. They also helped us get the rhythm when telling the story for our children for bedtime. The movies are so true to the books that they are as if someone is just reading it to you but with some fantastic animation.
The movie's script is literally the text from the book, nothing more, so it is brilliantly simple. The animations are high-quality and have done a magnificent job in adapting the illustrations to a 3D world. The musical score is terrific, and my son hums the tunes and asks us to play them. Finally, the movies are voiced by famous UK actors like Helena Bonham Carter, James Corden, Martin Freeman, Jennifer Saunders, Simon Pegg, Sally Hawkins, Jillian Anderson, and more.
These are the stories turned into short movies so far:
The Snail and the Whale
Room on the Broom
The Gruffalo
Zog and the Flying Doctors
Zog
The Highway Rat
The Gruffalo's Child
Stick Man
These movies have been shown on BBC1. Depending on your country, you might have most of them available and include them with Amazon Prime. Check it out!
In case you do not have them, I recommend buying the DVDs. We did have them available, but we bought the DVDs anyway because we liked taking them away on holidays (the hotels had DVDs but not Amazon Prime in the rooms). I also liked that my daughter learned to put it on by herself. It is easier for her to play a DVD than to browse through Amazon and click on things I do not really want her to see. Also, now that we are in Spain, the movies are sometimes available and sometimes not (weird and annoying). We always have the DVD backup for "movie night."
I've just discovered that the next book to be animated will be Superworm in December 2021. Can't wait to see that one as well!
Toys from the books – wonderful to play the stories!
I usually do not buy puppets. But when we went to Waterstone's near Picadilly in London (the bookshop with the loveliest children's section we've ever seen) and saw all the characters to the Gruffalo as plush toys, we had to add them to our Christmas list. We have played so much with them! Even 4 years later, we still play with them. We've used them at bedtime while we read the story; we've used them as puppets while playing with a puppet theatre and also played with them just because.
Later on, we also bought the whole set on Amazon for Room on the Broom and they are wonderful. My son also has the Highway Rat, who came riding a hobby horse last Christmas. You can also find Zog, the Snail and the Whale, the Gruffalo's child and stick man. All our plush toys are 6/7 inches tall. This is just one as an example.
Oh! And searching the link to show you the plush toys for this article, I have discovered that action figures are now! They are less pricey than buying the whole set of plush toys. The Room on the Broom set looks fantastic. Check them out as well!
Surprising books that we all love
Honestly, at home, we all enjoy her books. Both my son (3yo) and daughter (5yo) still ask us to read her books at bedtime. And I am always happy when they pick one. I enjoy them as much (or even more) than them. My personal favorite is "Room on the Broom" (although my daughter has put it further down her ranking).
So, if you want lovely books in rhyme, with unique main characters, beautiful illustrations, and a kind heart, check out Julia Donaldson's books. All in all, her stories are wonderful and surprising. Whether it be in book form or movie.
If you do, please let me know your thoughts!
Happy reading! x